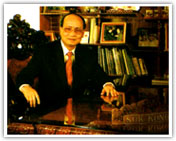 Message from CEO
Chief Executive Officer/ General Director

It has been an exciting 15 years for Sokimex Group. We have not only achieved our target of being the leader in the petroleum division but successfully steer the company into a new era of dynamic growth through strategic diversification.

Today the group is leading the way in the hotel & resort division and has established a firm control on the other industries like garment manufacturing, financial management and transportation.

I forecast the next decade to be even more dynamic for Sokimex Group especially when the hotel & resorts division has matured and will lead to new business scope. As always, with the right courage, confidence and clear vision of the future, Sokimex Group will meet each opportunities and challenges with even greater confidence.

With our confidence in our management teamís experience, we are constantly seeking new seeking business cooperation with oversea companies who wish to join us on the journey of success.

Success is the journey and not the destination therefore at Sokimex we set our vision as far as we can see.